SomaVeda® Nuat Boran Northern Style Thai Yoga
Level 3

The prerequisites for attendance and certification in this class, are the SomaVeda® Level One:
Fundamentals of Thai Yoga
Therapy and the
Level Two "SomaVeda® Ayurvedic Thai Massage
". Level 3 SomaVeda® Nuat Boran/Northern Style Thai Yoga continues the work begun in
SomaVeda® Level One
and
Two
. Level 3 explores in detail the Chinese and Hill tribe influence on hands on healing with the eight basic flows of the SomaVeda® Northern method. These flows although similar to those of the ITM and Old medicine Hospital Traditions are taught with a manner, context, and supplemental information unique to the SomaVeda® program. This course is an Ayurvedic Yoga Therapy training program and is required for the SomaVeda® Ayurvedic Wellness Counselor certification offered at SCNM in Brooksville, FL.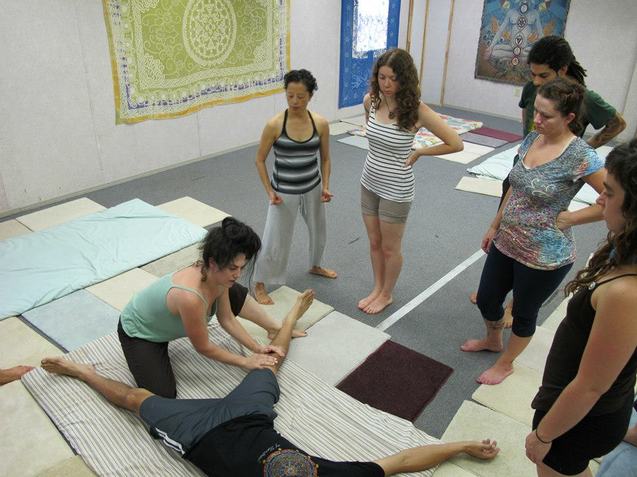 Careful instruction by Kruu Arianna Coe is provided with opportunities for questions and on the spot corrections to techniques and postures. Anthony B. James ©2012
In this course understanding of the Energetic Anatomy and Physiology, Ten principle Sen (Nadis), and Chakras is deepened. Basic Oriental and Western anatomy and physiology as it applies to the SomaVeda® Nuad Boran (Chiang Mai style) is introduced at this time. The role of the breath in partnership within the therapeutic encounter is discussed and practiced more intently. The course is predominately hands on, with an introduction to the underlying philosophy and theory of energy. The use of Puja or intentional affirmations and Mantra in the healing process is emphasized. This course originates from the Shivago lineage and we will learn and practice the Om Namo Mantra every day. This class is "hands on" and quite intensive, it is designed to take your SomaVeda® Thai Yoga therapy practice to a higher level.
The Northern style is the most Yang variation of the traditional SomaVeda® Thai Yoga healing methods. This level catalogs more than two times the number of individual techniques as found in
SomaVeda® Level Two
, that's over 100 different Asana (Therapeutic postures.) The course includes SomaVeda® Thai reflexology treatment for the Hands and Feet, the Feet and Leg lines, Supine position, Side Lying Position, Leg Stretching and Abdominal. For intermediate level students and above it also includes the famous SomaVeda® Prone and Seated position treatment methods and flows. During this seven day intensive there is additional practice of the meditative and spiritual aspects of training ie: Vipassana (Insight Meditation) and Puja. This course completes the students basic compliment of working tools. Classes may begin with daily SomaVeda® Hatha Yoga and or SomaVeda® Reishi Yoga. (Northern Method, minimum 64 credit Hours or CEU's) NAICH, NCBTMB, approved CE Hours.
We believe in giving credit where credit is due! Our version of the Northern or "Lanna" style Traditional Thai Massage: Nuad Boran was given to Aachan Anthony B. James of the SomaVeda® College of Natural Medicine by the late Grand Master of the Old Medicine Hospital in Chaingmai in the early 90's. Aachan Sintorn Chaichagun gave Dr. James the original request to "Take This work to American" and the west. He took it to heart and has been strictly teaching and sharing what he taught him from that time to now. We received this training at the SCNM/ Thai Yoga Center and now offer it here at NAICH/ Humiovi Thai Yoga Institute with the blessing of Aachan James.
Important Note!
We consider this class to be a Sophisticated Beginner Class. Graduates at this level should under no circumstances consider themselves to be professionals or present their practice to the public as professionals. These classes are meant for educational purposes only and do not purport to make any medical recommendations. Medical recommendations and diagnosis for any disease condition is regulated by both Federal and State law and may only be practiced by a licensed physician or other licensed health care provider. However, this class when practiced in conjunction with all of the SomaVeda® provides a very firm and substantial foundation from which to become a professional! Those seeking to become such professionals can find help with this through additional SomaVeda® training and if this is your intention please notify your instructor.
SomaVeda® Integrated Traditional Therapies®, and SomaVeda® are
Federally Registered Trademark/ Servicemark
and proprietary Intellectual Property, All World Rights Reserved.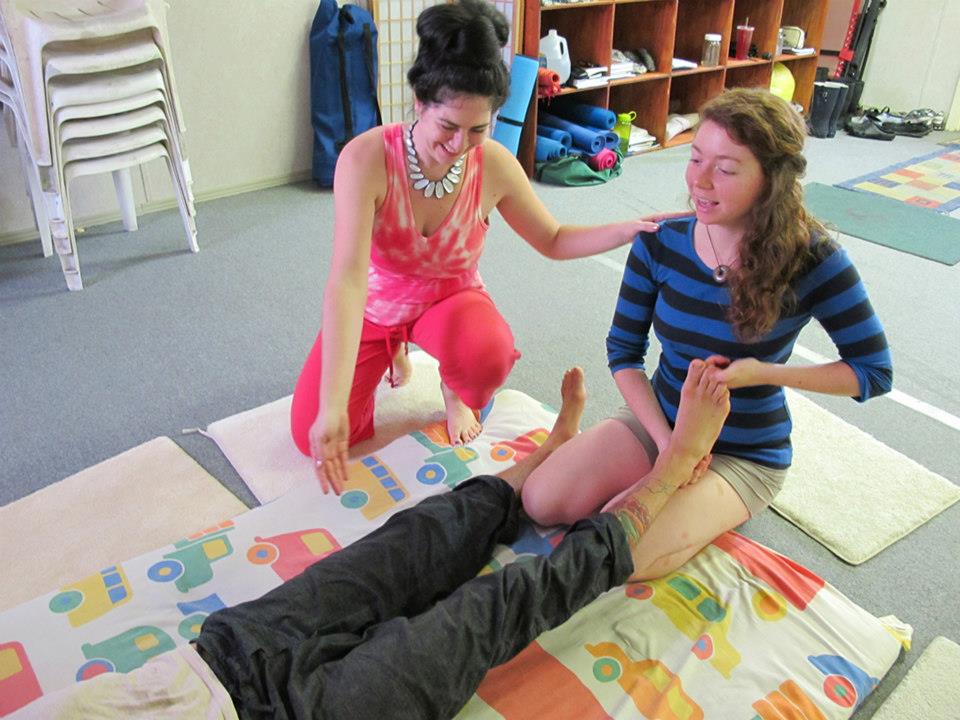 Kruu Arianna Coe provides kind and specific supervision as students learn further advanced techniques. Anthony B. James ©2012